Invisalign® Info in Towson, MD
By Dr. Brummer

We are a Certified Invisalign Provider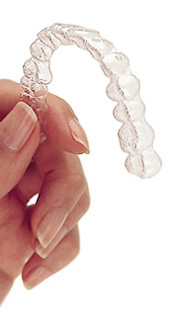 Consider Invisalign to get the beautiful straight teeth you've always wanted — without braces. A complimentary consultation with our doctor can determine if Invisalign is right for you.
There have been a few advances in modern day orthodontics but none as amazing as Invisalign!!! Straightening teeth without braces is awesome! Call for a consultation to see if you or your teen could benefit from Invisalign.
The What:
Invisalign uses a series of invisible, removable, and comfortable aligners that no one can tell you're wearing. You simply wear them over your teeth and change them out for a new set aligners every two weeks. Little by little your teeth gradually shift into place, achieving that confident smile.
Advantages of Invisalign:
Patient Comfort- no brackets or wires to bother cheeks
Removable aligners:

clinically proven superior oral hygiene
no food/drink restrictions

Fewer office visits, fewer emergencies which means less time at the orthodontist (great for college students as well)
No impressions- we have a 3D digital scanner to capture the image of your teeth
Invisable/clear aligners for the best esthetics removing potential anxiety of metal brackets
The How:
Each aligner is worn for 22hrs/day for 2 weeks. At the end of the 2 weeks, you move on the the next aligner. Little by little, as you move from aligner to aligner, your teeth begin to align and look and feel fabulous getting you closer to that confident smile! Every patient is different and every case has it's very own treatment plan. The average treatment time is about the same as it is with traditional braces and is dependent upon the severity of the condition. Please call for a consultation so we can see what Invisalign can do for you and your teen!
For more information on Invisalign, you can visit the Invisalign website.